I have completed my build log, showing the updates to my liquid cooled PC, and have decided to re-post them on my personal blog. To see the original build log, head over to [H]ard Fourm.
Component wise, not much will change, but I am adding some cool upgrades like enhanced case lighting via an illuminated mid-panel, and an AquaComputer monitoring / control system, custom sleeving, etc. Here is an early design of what I am shooting for, built in Google SketchUp.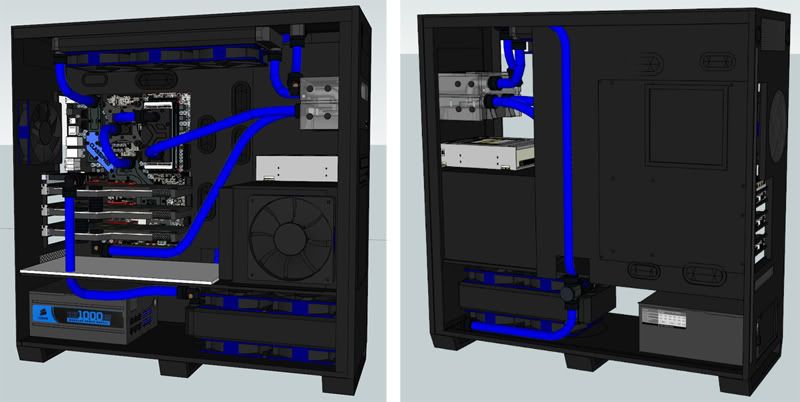 It will be a liquid cooled PC with one giant loop, using 2 pumps in series. I am using the Corsair Obsidian 800D, and this case is a monster. I love the all black look, inside and out. I had to make a few minor modifications for the two loop system to work, but the mod went great, and I am pleased with the results.
Here is the Parts List:
* Case: Corsair Obsidian 800D Full ATX
* Power Supply: Silverstone ST1000-P
* Motherbord: EVGA X58 Classified 3
* CPU: Intel i7 Core 970
* RAM: 12GB Corsair Dominator @ 1600MHz
* GPU: 1 EVGA GTX 580 Hydro Copper 2
* GPU: 2 EVGA GTX 580 Hydro Copper 2
* GPU: 3 EVGA 9800GT (Dedicated PhysX, and to power side LCD monitors when SLI in enabled)
* Sound Card: Creative X-Fi Titanium Fatal1ty Edition
* Hard Drive 1: Intel X-25m 160GB SSD (Operating System & Programs)
* Hard Drive 2: WD Black 1TB (Game/Steam Installs)
* Hard Drive 3: Seagate 500GB (User Files)
* Hard Drive 4: Seagate 2TB (Storage)
* Optical Drive: Asus Blu-Ray / DVD+R
* Fan Pump Controller: AquaComputer Aquaero5
* Pump Controller: AquaComputer Power Adjust Ultimate x2
Loop Section 01
* Tubing: PrimoFlex Pro LRT UV Blue Tubing -3/8in. ID X 5/8in. OD (10ft)
* Coolant: Distilled Water w/ Kill Coil & PT Nuke
* Reservoir: XSPC Acrylic Dual 5.25in. Reservoir
* Pump: Swiftech MCP350 12 VDC Pump
* Radiator: HardWare Labs X-Flow Extreme III
* CPU Block: Swiftech APOGEE HD
* MoBo Block: EK-EVGA X58 Classified Full Board Waterblock
* Fittings: Bitspower Matte Black... and lots of them
* Fans: Cooler Master R4 120mm Blue LED Fan R4-L2R-20AC-GP (x3)
Loop Section 02
* Tubing: PrimoFlex Pro LRT UV Blue Tubing -3/8in. ID X 5/8in. OD (10ft)
* Coolant: Distilled Water w/ Kill Coil & PT Nuke
* Reservoir: XSPC Acrylic Dual 5.25in. Reservoir
* Pump: Swiftech MCP350 12 VDC Pump
* Radiator: HardWare Labs GTX240
* GPU Block: The EVGA GTX 580 Hydro Coppers come with a custom Swiftech WB pre-installed
* Fittings: Bitspower Matte Black... and lots of them
* Fans: Cooler Master R4 120mm Blue LED Fan R4-L2R-20AC-GP (x4 - Push/Pull)